P-Valley Recap: Welcome to Paradise
Season 1, Episode 3: Higher Ground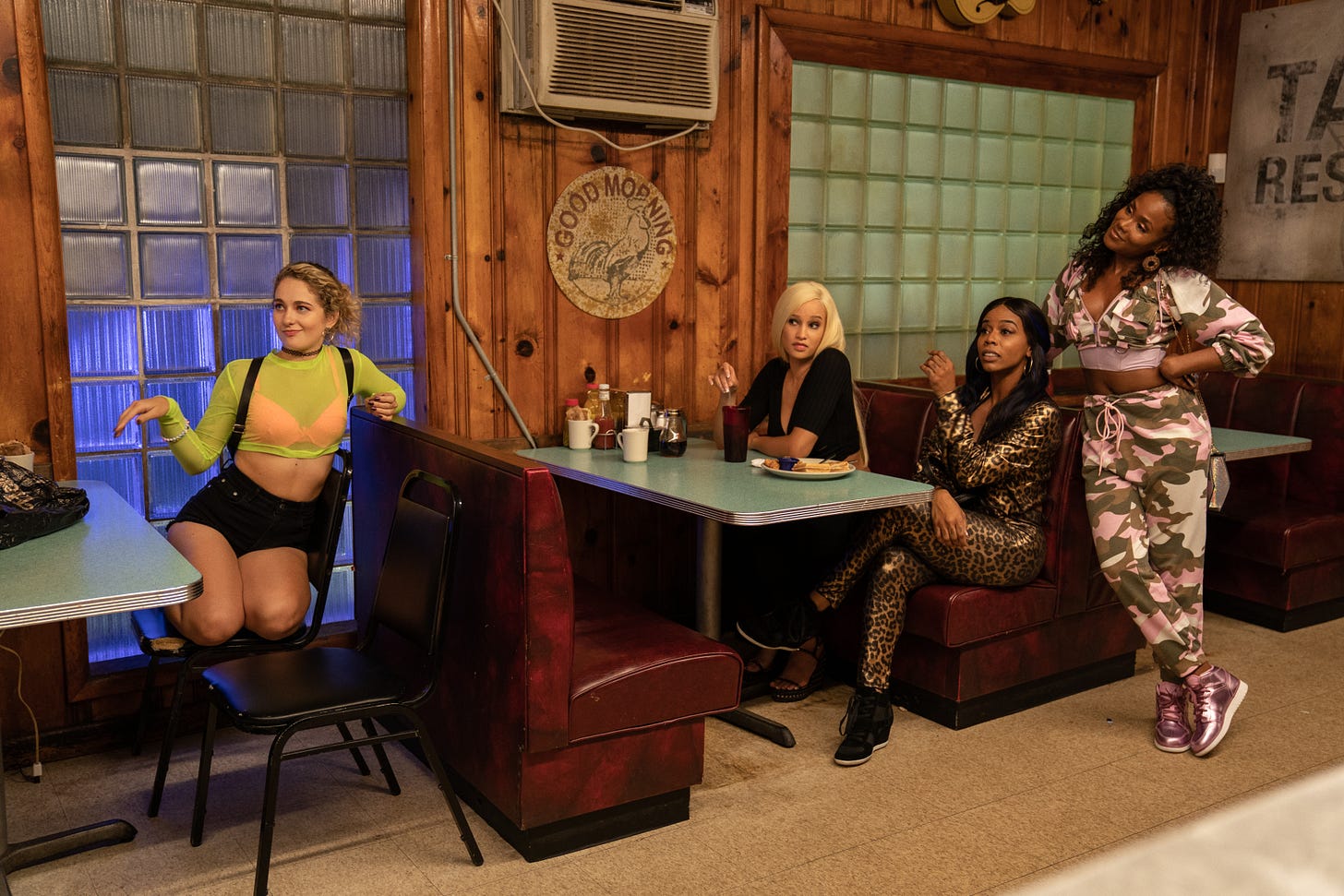 (Our P-Valley coterie of Gidget (Skyler Joy), Autumn (Elarica Johnson), Mercedes (Brandee Evans), and Keyshawn (Shannon Thornton). Courtesy: Starz)
Although we have seen many of the characters in various stages of undress, P-Valley's third episode is the most revealing so far, in terms of the audience getting background information and the characters themselves learning new information.
It would be easier to list those who don't fall in either category.
Let's talk about the revelations, shall we?
Andre not only has a significant other, but a wife, at home in Atlanta.

Andre is the godson of Mayor Ruffin (Isaiah Washington) and they are working together on the casino plan.

They only actually need The Pynk for the casino and not the Kyle land. (Mississippi law requires casinos to be on waterfront property.)

Autumn uses her smarts to find out about the casino/Pynk plans, which she reveals to Uncle Clifford (Nicco Annan).

Mercedes also has a daughter. She is being raised by someone else, but the teen is one of her Chucalissa Challengers.

In a former life, Gidget was an Ole Miss cheerleader.

DJ Neva Scared AKA Tequan (Brandon Giplin) is still in high school. And he attends a prep/private school.

Lil' Murda (J. Alphonse Nicholson) has a regular vehicle, that is not a Hummer.

Gidget's boyfriend, Duffy (Dominic DeVore), appears.
Strip club inner-workings were revealed, too.
We learn about the regulars of our Trinity AKA Mercedes, Keyshawn, and Gidget. Mercedes' regular is a married football coach who lives in Memphis, Keyshawn's regulars are Corbin (as displayed in the last episode) and an anesthesiologist whose kink is to watch her sleep. (That seems questionable, but let's move on.) Gidget, whose character we are getting a bigger glimpse of, has a regular-turned-boyfriend. And then there's Autumn, who maybe/maybe not has made a regular of Andre.
The opening also showed interesting insight into the strip club life. We see Mercedes dancing and talking to her regular and him offering to "take care of her." She is aglow in red as she dances on the pole, he's sitting down in blue and there's nobody else around. But after Mercedes reminds him that the fantasy is cheaper than reality and walks off, the haze is lifted for both the viewer and the coach, and the music starts.
As it turns out, the whole time, the stage and club have been full of other dancers and customers.
Millicent Shelton is this week's director. She has directed episodes of tv shows including "30 Rock," "The Bernie Mac Show," "Empire," "Black-ish," "Ballers," and "Scandal," as well as music videos for artists including Salt-n-Pepa, Aaliyah, and Mary J. Blige.
There has been a lot of conversation about the show's accents and dialect. Uncle Clifford's accent doesn't necessarily sound "Mississippi" to me, but some complaints seem to be about (Black) Southerners' reluctance to own up to how "country" we (or our neighbors) actually sound.
There's nothing inherently regressive about sounding Southern or country or using or showcasing dialect.
That's wholly different than saying that said dialect or colloquialisms are not authentic or indigenous to the area.
But that's not largely the reaction I've seen.
---
Memphis Easter Eggs
The music:
"Spazzing Out" by Key Glock

Autumn strips to "Workin' Woman Blues" by Valerie June. Valerie was reared in Humboldt, Tennessee, but started her music career after moving to Memphis at 19. And she claims Memphis and we claim her. I love this song and never envisioned it used in a strip club setting, but it fits the scene perfectly.

More Memphis rap anthems: "Slob On My Knob" by Tear Da Club Up Thugs (AKA Three 6 Mafia) and "S.O.U.T.H. Parkway" by Gangsta Blac ft. Atl's BBN

And an incredibly important song to Memphis hip hop culture, although it was not created by Memphians, "Drag Rap" by The Showboys. (Known as "Triggerman" to Memphis folks.)

Red Bull Music Academy has a really thorough history on the song's import in the South, which includes the following:

"In Memphis, fans latched onto the lyrics' intricate gangster narrative, and the song became the soundtrack to the city's signature "gangsta walk," a line dance-meets-mosh pit mash-up that created a spiraling tangle of footwork and people that often turned violent – so much so that Triggerman was often banned at many venues and schools. (Today's "jooking" is a highly-evolved offshoot of that era's gangsta walk.)

I love that a strip club routine was choreographed to this song!
Memphis slang:
Mane is used. This time as the noun instead of the character.
Other Odds and Ends:
Mississippi Boulevard (Christian Church), a well-known Memphis church, is referenced.
---
Pussy Power Rankings
tied at 1.) Uncle Clifford: The HBIC is back! She confronts Corbin about the casino (+1 for strategy), gets more information about the casino from Autumn (+1 for employee relations) and sets up Andre to confront him (+1 for putting the muscle on).
tied at 1.) Sister Woodbine: Patrice promises to give Mercedes her money (+1 for paying off debts). She also ends up defending her again to the clergy members and using that defense to pitch herself (+1 for being a fence). Even though she is unsuccessful, she fights for a chance to preach in the pastor's absence (+1 for vigor).
tied at 2.) Mayor Ruffin: The new park being possibly named after the Mayor is a power move (+1 for politicking). And shout out to him for giving libations to the ancestors.
tied at 2.) Autumn: Autumn asks Andre what this new casino tourism will do for the folks who are residents (+1 for power to the people). Even though she seems to actually like Andre, she goes along with Uncle Clifford's request (demand) to get information from him, and she delivers on that front (+1 for subterfuge). And even though it's a ruse, insisting on a condom in their encounter gets a kudos (+1 for crazy prophylactics). Her habit of turning to the bottle to deal with her pain has caught up with her, culminating with a sloppy, ill-attempted pole dance, which is a demerit.
tied at 2.) Corbin: Corbin is playing the long game by trying to go for the lease, rather than outright selling his share of the Kyle property (+1 for long-term vision). And he holds out on Uncle Clifford, by not telling her the full scope of the casino plan under pressure (+1 for being shrewd).
6.) Mercedes: So far Mercedes is still on her way to owning her own gym, with her mom promising the money will be delivered post-haste. (I'm skeptical that this will go off without a hitch.) Mercedes saves Autumn from injuring herself and further embarrassing herself during a drunken pole parlay (+1 for showmanship ). The Challengers are in open rebellion and Mercedes' attempts to quell it are rebuffed. And Mercedes is losing a highly valued member, after all her efforts. This episode feels like it might be setting up Mercedes up for a series of setbacks.
7.) Andre: Andre's aim of the casino bringing the town back is admirable (+1 for buying the, uh, block). So much has gone badly for Andre in such little time. He tells this mostly stranger woman his wife's name. Said woman finds out about his casino plans for The Pynk. And that he has illicitly-taken photos of her saved on his desktop. And to top it off Andre is shamed by the hotel clerk. He's jeopardized both the casino plan and his family life all in one go.